In celebration of Christmas the whole school will be participating in a Nativity play. The Kindy students will act out the Christmas story on the stage while the Year Three children narrate the story. The rest of the school will also be a part of the production singing Christmas songs.
Date: Friday 6th December
Time: 6pm (Please arrive at school at 5:30pm. Children are to be dropped off to the Kindy room in full costume prior to the start time of the performance and will walk down together as a class.)
Location: St Dominic's School Hall and Oval
All children in Kindy have been assigned a part for the play. Please see the list below.
Please dress your child in a traditional version of the costume.
Mary – Selena
Joseph – Oriz
Main Angel – Lily
Angels – Emily, Vanda, Avah, Jasmine, Allegra, Mia, Hazel, Sophie, Poppy, Arielle
Wise Men – Anthony, Henry, Leo
Shepherd – Thomas
If you have any questions or queries, please don't hesitate to see me. I would be happy to provide examples if required. The school also has a box of pre-loved costumes that you are welcome to look through to dress your child in.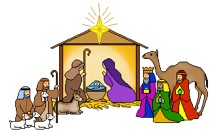 Miss Jemma Davis
Kindy Teacher