The Premier's Reading Challenge is a literacy engagement program for WA students, Kindergarten to Year 10.  CEWA students are encouraged to get involved and to read 12 books from 5th May to 9th September, 2022.  The project tagline is 'Reading can take you anywhere'.
Program objectives:
To engage all Western Australian students in the joy of reading.
To expose reluctant readers to creative literacy options.
To involve parents and caregivers in supporting students' literacy.
Attached below is the CEWA Registration Form for students to complete their reading journey.  From 5th May 2022, students (or their parents or caregivers) will also need to register at www.premiersreadingchallenge.wa.edu.au.
The website contains advice and tips for parents and families to support their child's learning.
All students who complete the challenge will receive a commemorative certificate signed by the Honourable Mark McGowan MLA, Premier of Western Australia.
Students can select an avatar online for their personal account and upload books and other titles to be eligible to win prizes.  An innovative partnership with Tourism Western Australia means weekly and end-of-challenge travel and experiential prizes are on offer.
We look forward to this challenge and to transforming, transporting and inspiring our students through the wonderful world of reading.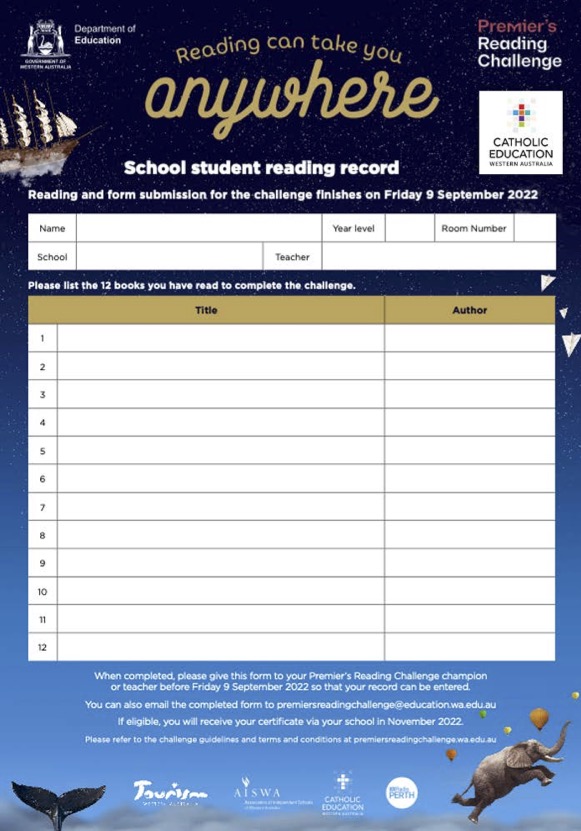 Leon Bolding
Principal