I would like to thank everyone for the support you have shown throughout this past post lockdown week.  We appreciate everyone abiding by the regulations and working together with us to access and move around the school safely.
Late last night, Premier Mark McGowan announced that COVID-19 restrictions in the Perth metropolitan area and Peel region are to be eased from 12.01am on Saturday.  The modified restrictions outlined below remain in place until 12.01am on Saturday, 8th May 2021.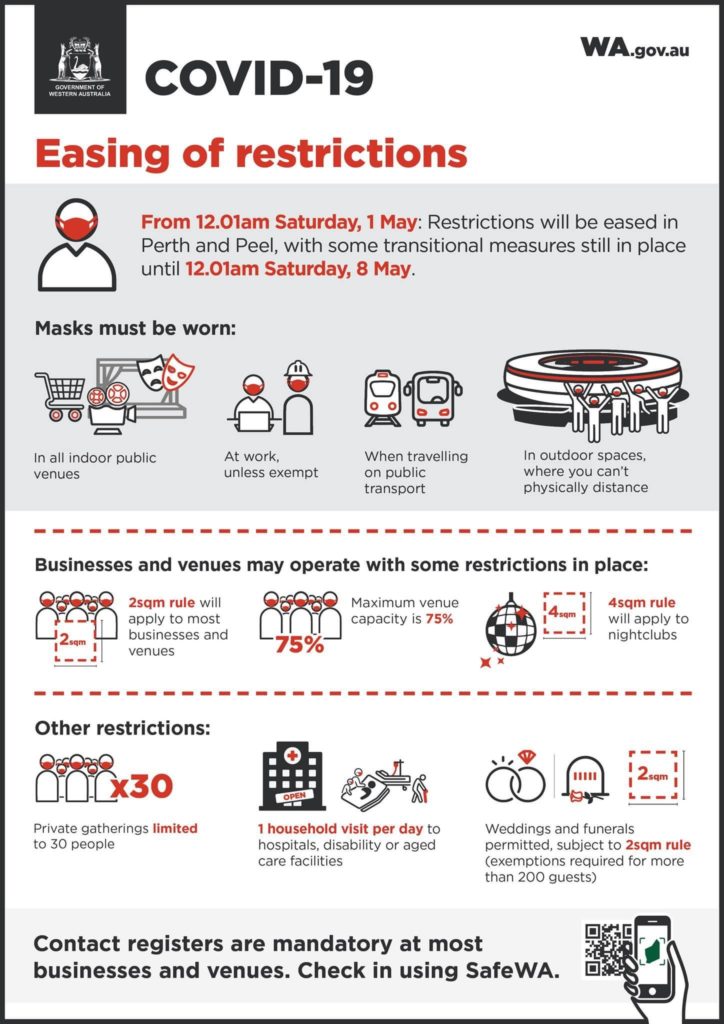 The easing of restrictions is very positive news and means that many of our normal activities and planned events will be able to go ahead with minor adaptations.  Below is an outline of the arrangements and restrictions as they apply to our school.
Masks
All staff members are still required to wear a mask whilst indoors at school, however, are not required to wear a mask while teaching.
Staff are no longer expected to wear a mask outside, unless physical distancing is not possible.
Students in Kindergarten to Year 6 are not required to wear a mask.
Parents, caregivers and visitors to our school are required to wear a mask whilst indoors, and outdoors if physical distancing is not possible.
Parents, Caregivers and Visitors on School Premises
Parents and caregivers continue to be able to enter school grounds to drop off and pick up their children and are now able to enter classrooms once again, however, must continue to:
enter and exit the school through the main school gates located on Beatrice Street,
sign in using the SafeWA app (QR code located on main school gates),
wear a mask whilst indoors and outdoors if physical distancing is not possible,
practice 1.5 metre physical distancing, where practicable,
not congregate in groups,
follow good personal hygiene practices, and
use the hand sanitiser located at the entrance to the school grounds.
All parents, caregivers and visitors to the school during the day (outside of drop off and pick up times) are required to adhere to the above directives, as well as report to the main office before entering the school.
St Dominic's Church will reopen this weekend at 100% capacity, however, masks must be worn inside.
Our indoor facilities such as the school hall and classrooms remain subject to the two square metre capacity rule.
Drop off and Pick up
The drop off and pick up procedures that have now become the norm over the past year, will continue to be in place throughout this week and beyond.
Student Attendance
Students who are unwell should stay at home and parents are asked to seek medical advice if their child exhibits symptoms of COVID-19.  The normal processes for advising the school of a child's absence continues to apply.
Playground Use Before and After School
The junior and senior playgrounds remain closed before and after school.  After collecting students from the classroom, families should exit the school in a timely manner via the main gate.
Water Fountains
Our water fountains remain on during this period, however, it is strongly recommended that students continue to bring a water bottle each day for their own personal use.  These bottles can be refilled via the chilled water bottle refill stations installed earlier in the year.
Uniform Shop
Online orders are still our preferred option, however, parents may physically attend the shop by making an appointment with our manager, Peta Kelly.  Masks must be worn at all times whilst in the Uniform Shop.  To arrange an appointment time, please contact Peta via admin@stdominics.wa.edu.auor by calling the front office.
All students should now be wearing the correct winter uniform as outlined in our School Uniform Requirements document located here on our school website.
Calendar Changes
Taking into consideration the impact these restrictions still have on some activities and following consultation with school staff and the P&F, the decision has been made to reschedule the following events.
P&F Mother's Day Morning rescheduled to Thursday, 13th May (Week 4).
Kindy and Pre Primary Mother's Day Pampering Session rescheduled to Thursday, 13th May (Week 4).
Pre Primary families, please note that due to the above changes, the excursion to Kings Park will be rescheduled and the new date shared with you early next week.
All other school based calendar events will go ahead as previously planned.
I am again extremely grateful to all in our school community — students, parents and staff — for your support in ensuring our school remains a safe environment for all.  We are indeed blessed that the measures taken have proven so successful and that students in WA are able to engage in their learning with minimal disruption.
I ask that you keep in your prayers communities around the world who continue to experience extreme hardship and suffering in this time and as always if you have any questions, please don't hesitate to contact us.
Have a wonderful weekend!
Leon Bolding
Princpal