Following consideration and consultation over the past few months, the decision has been made to relocate our school uniform shop to an offsite location at the end of Term 2.  The shop will be re located to our uniform suppliers (Jenny Franklin Enterprises) retail outlet store, located at Unit 1, 85 Guthrie Street, Osbourne Park.  The shop front is approximately 8 minutes away as can be seen on the map below.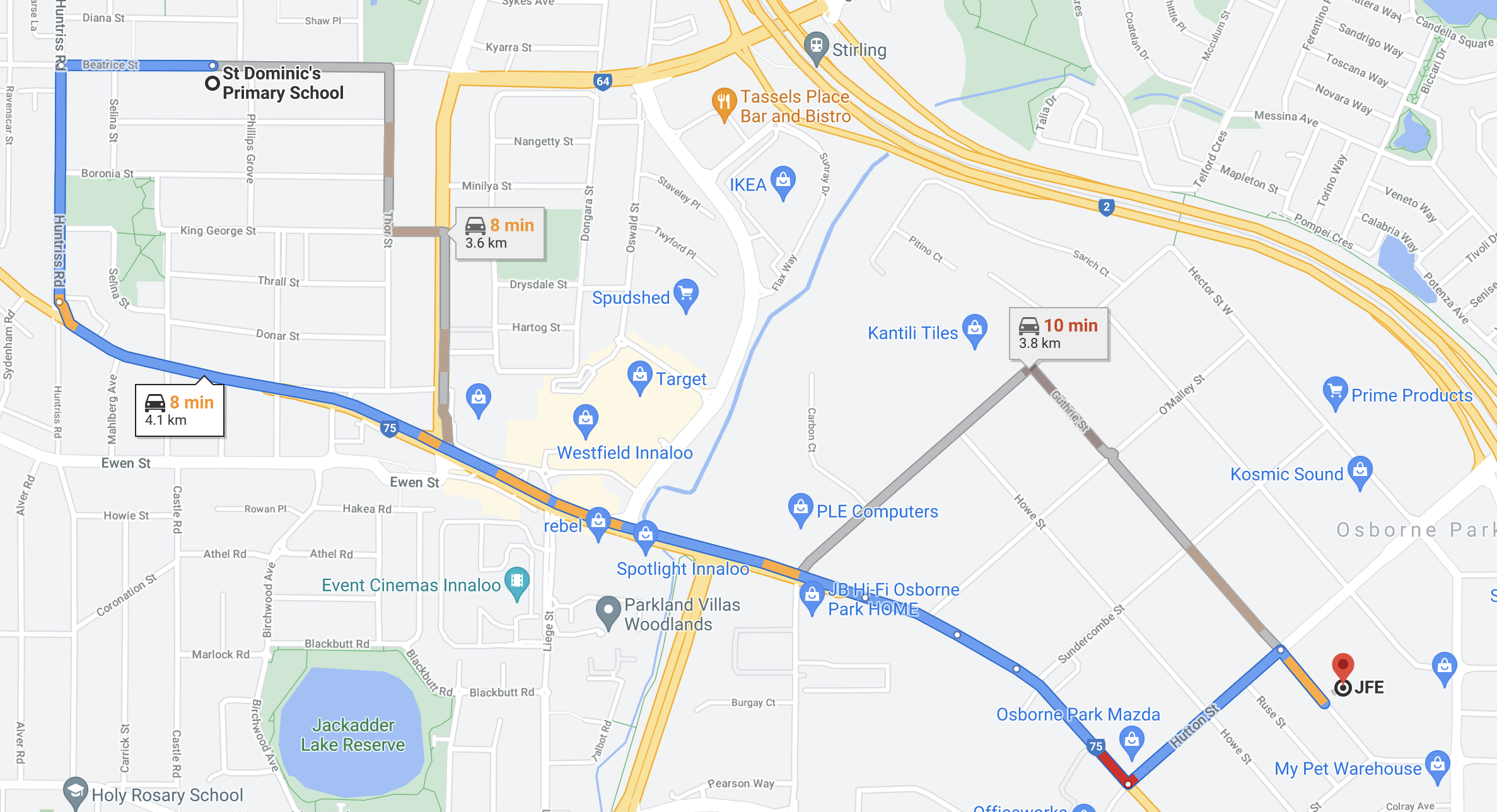 Below are a list of FAQ's that will hopefully answer any questions you may have about this change to our uniform shop location.
What will be the opening hours of JFE's retail store and where will it be located?
The shop will be open for families to visit during the following times at the address listed below.  A significantly greater range of times to visit then currently available to our families via our onsite shop.
Unit 1, 85 Guthrie Street, Osbourne Park
Monday to Thursday – 7:30am to 4:00pm
Friday – 7:30am to 2:00pm
Will there be changes to the current St Dominic's School Uniform as a result of this transition?
The existing St Dominic's School Uniform Requirements document remains unchanged and all currently required uniform items will continue to be available from JFE's retail outlet store.
Will there be limited stock available for the remainder of 2021 due to this transition?
Stock currently housed in our onsite Uniform Shop will be moved to JFE's shop at the end of Term 2.  JFE staff will then assume responsibility for the ongoing maintenance of stock levels, however, we do not envisage any stock shortages as a result of this transition as we currently have ample stock available.
Do families have to visit the retail store to purchase items or will there be an online ordering option available? 
An online ordering system will be available 24 hours a day 7 days a week via our school website.  Orders placed online will be delivered to the school and placed in your child's school bag by admin staff.
Once control has been handed over to JFE will there be a dramatic increase in prices as a result?
Uniform item prices will remain relatively unchanged.  One or two items will increase by a small margin due to COVID-19 and the impact this has had on manufacturing and transport.  These increases would have occurred regardless of the transition to an offsite shop front as indicated in our uniform shop post in March https://www.stdominics.wa.edu.au/uniform-shop-update-get-your-winter-uniform-items-ordered-now/.  Prior to any individual price increase, the change needs to be discussed, justified and approved by the Principal of the school.
We believe that this transition will be a positive move forward for our school community and that JFE will continue to provide a reliable service to our families over the coming years.  We look forward to continuing our partnership with them into the future.
Further details will be shared as we get closer to the transition date, however, if you have any questions or concerns regarding the above information, please feel free to contact me.
Leon Bolding
Principal