At different forums over the past six months you may have heard me speak about the work that has been done, supported by our School Advisory Council, Catholic Education Western Australia and Paterson Group Architects, around developing a long term visionary Master Capital Development Plan for our school.  The plan encapsulates our whole school site and is focused on addressing three key areas:
Child health and safety
Modernising our teaching and learning spaces and
Increasing enrolments
Below is our most recent copy of the master plan, which has been broken up into four stages (Please note that not all stages have been given approval at this time so may be subject to change).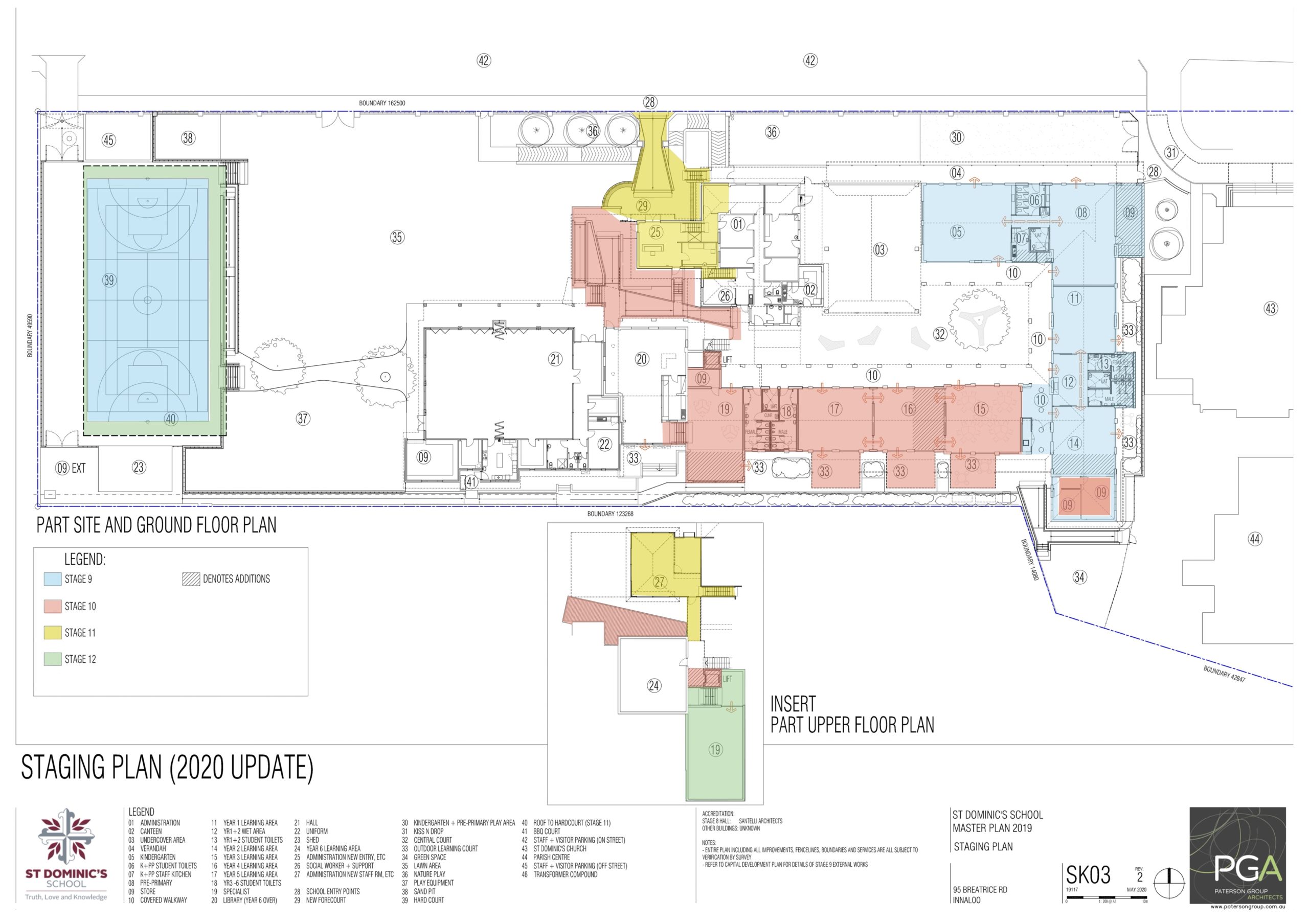 Early in 2020, using the above master plan, we lodged an application with Catholic Education Western Australia, seeking permission and funding support to commence work on Stage 9 (blue section) of this plan.  After a lengthy process, we were informed late last year that we had been successful with our application and could proceed with these works in 2021!
The successful Stage 9 application includes the following areas (marked in blue above and yellow below):
Refurbishment of our current Kindy, Pre Primary, Music and Stem Rooms, into a new Kindy, Pre Primary, Year 1 and Year 2 Early Learning Hub, with two new internally and externally accessible toilet blocks for Kindy and Pre Primary and Year 1 and 2.
A new brighter and safer walkway through the current Uniform Shop space to the existing Year 1 to 6 toilet block.
New larger windows and glazed doors installed into our current Year 2 to 6 classrooms, as well as glazed sliding doors on the southern side of these rooms, which will provide access to the southern courtyard and outdoor learning spaces.
A complete redevelopment of the current courts at the Western end of our block.  This will include a new surface, line markings, rings etc.
The removal of the currently safe in situ asbestos found in the eave linings outside our Year 1 and 2 classrooms.
Below is a further image providing a closer look at the proposed Kindy to Year 2 Learning Hub (please note that this image may still be subject to change).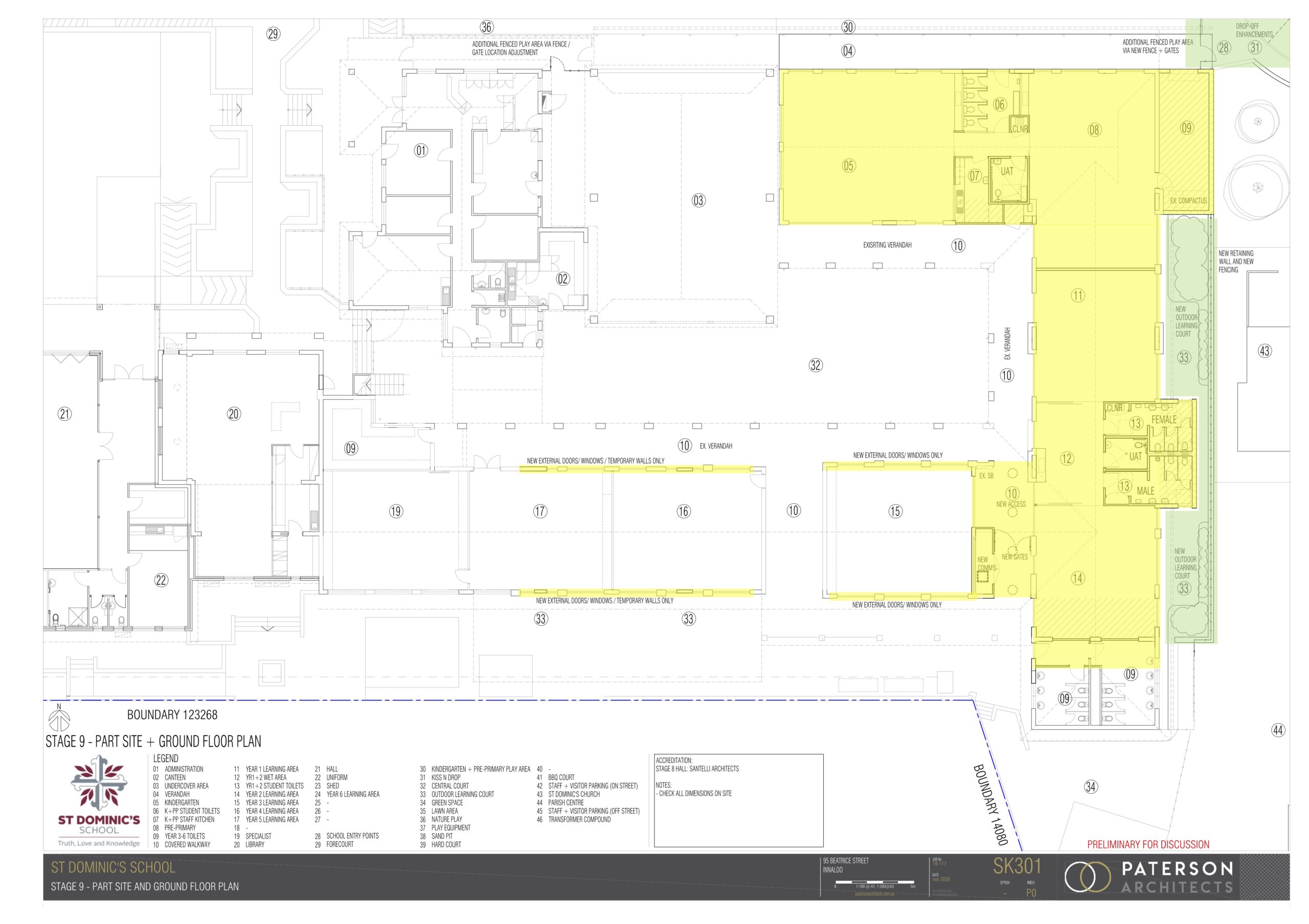 When considering the commencement date of our 2021 project, the decision was made to develop a schedule that provided our new Kindy students with enough time to settle into school life and would present the least amount of disruption for all students at St Dominic's.  To this end, the proposed start date for Stage 9 is Monday, 5th July (first day of the mid year school holidays), with a completion date set for late December.  The intent is to have all students start the 2022 school year in their newly refurbished classrooms.
During the six month build window and commencing in Term 3, our Kindy and Pre Primary classrooms will be set up in the School Hall with the rooms delineated by concertina doors.  The students will have access to the toilets in the hall and consideration has been given to establishing a safe outdoor play space for these classes.
The Year 1 classroom will be relocated during the build to our current Library space, with our books and shelving moving over to the Parish Centre behind the Church.  Staff will have the opportunity to take classes safely over to the Parish Centre and provide the students with their normal book exchange opportunities each week.
We do understand that the building works that we are about to embark on will bring some disruption, however, we are extremely confident that the plans put in place during the second half of the year will ensure the continued safe delivery of our students educational program.
I am also aware that there may be questions that arise for you after reading the above information.  To hopefully address and capture these questions we have established a 'Stage 9 Building Project Frequently Asked Questions' page that we will update regularly and can be accessed via the link below.  I will also provide regular updates on the project as we move closer to the start date and throughout the second half of the year.
We are all extremely excited about the journey we are about to embark on and look forward to unveiling the amazing transformation of our buildings at the commencement of the 2022 school year!
Leon Bolding
Principal