Thank you to those who were able to attend the Parent Information Sessions held last Thursday night. I hope that you found the evening a wonderful opportunity to hear all about what your child's teacher has planned for the year ahead.
This week, once all the documents have been collated, a communication will be sent home to families with links to the documents presented by each year level.  This will hopefully provide families with a helpful way of referring back to the information shared by each teacher.
On the evening several points were shared by all teachers that I would like to draw your attention to below.
Emailing Staff Expectations
Emails will be responded to within a 48hour time frame
Emails after 5pm will be viewed the following day
Emails on the weekend will be viewed on Monday morning
If something is urgent during the day please phone admin
Who to Contact When Issues Arise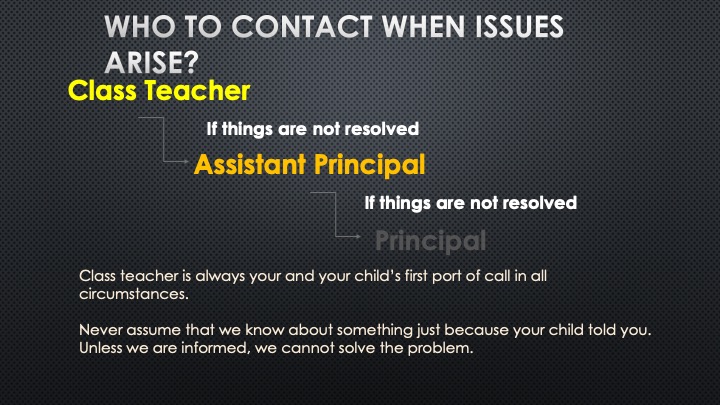 Non Attendance Notifications
If your child is going to be absent, an email must be sent to the classroom teacher with admin cc'd into the email (admin@stdominics.wa.edu.au) .
Where possible, we ask that this is done  prior to the start of the school day on which your child is absent.
The email must contain the full name of the parent or guardian providing the information for the absence.
Emails from parents are acceptable and will be printed for our records. Telephone messages are insufficient.
Teachers are required to follow up all absences which are not accompanied by a note.
If you are going to be away for an extended period of time (e.g. holiday within the term), please contact the Principal to discuss these plans.
Signed notes are still an acceptable form of notification, however, our preferred method of contact is via an email to the class teacher and admin.
Practical Code of Conduct Examples for Parents
Be involved in the life of the school. Attend and participate in school events such as Masses, assemblies and sports carnivals. Volunteer for P & F and classroom rosters. Give witness that you value education by being involved in the life of the school.
It is easy for an opinion to be mistaken for fact. Approach the relevant personnel within the school to verify the factual basis of a story can assist in allaying your fears as to the events in question.
Parents/ Friends are expected to interact appropriately with staff, students and other parents at all times. Raising your voice, posting online comments or forwarding emails to others, insulting behaviour to anyone on school grounds – is not appropriate.
Parents are expected to maintain privacy and confidentiality. You treat personal information about members of the school community as private and confidential.
Follow any reasonable instructions given by a staff member when on site and observe the signed parking areas of the school.
Leon Bolding
Principal