Welcome to St Dominic's Kindy 2019 where we are belonging, being and becoming in a beautiful and safe play-based, learning environment.
Learning in Kindy is dynamic, complex and holistic. Each child's physical, emotional, personal, spiritual, creative, cognitive and linguistic development is valued and promoted by:
adopting holistic approaches
being responsive to children's interests and individuality
planning and implementing learning through planned play experiences
intentional and explicit teaching
creating physical and social learning environments that have a positive impact on children's learning
valuing the cultural and social contexts of children and their families
providing for continuity in experiences and enabling children to have successful transitions
assessing and monitoring children's learning to inform planning and to support children in achieving learning outcomes
We have begun this term by discovering more about ourselves and our world. We used mirrors to explore our faces and talked about the similarities and differences between our faces and the other children in our class. We used small parts to make our faces, created a display using collage materials, drew our first pictures and even made some delicious veggie faces to eat for morning tea!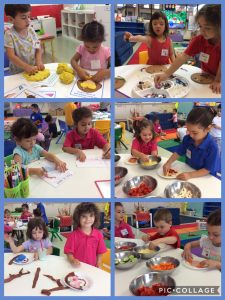 We have discovered that we all have different names, some with more letters than others, and we are learning to recognise our own names. We are now able to find our own pigeon holes, bag hook and personal items by looking for our own name. We have made our names using play dough, ordered the letters of our name to make spiky dinosaurs, searched for our name in the sensory rice tray and used collage materials to make a class display!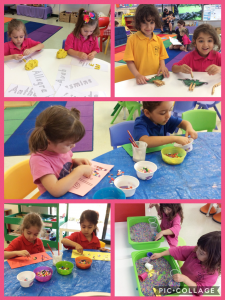 We have been enjoying reading lots of books about colours, such as, Where is the Green Sheep? and Brown Bear, Brown Bear. Miss Davis has been so impressed by how many colours we can name. We have sorted colours, played colour bingo, gone on a colour hunt around the whole school, invented our own coloured animals and written our own colour book!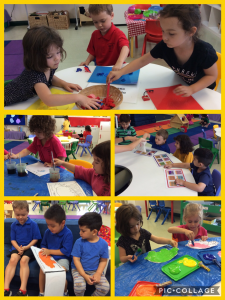 We have had such a wonderful start to learning in Kindy this year. We can't wait to share more of our learning with you!